,
Happy 100th Post to Me!!!

My new mantra in life is to reuse what I can and buy a lot fewer things new. Of course, there are situations where I can't avoid it, but when I can, I buy used or make my own stuff work! This goes for clothes, furniture, decorations, and everything! Reduce, reuse, recycle, baby!!
So, in the spirit of all that, I bought myself some new bedding for my bedroom (overstock.com.) *snort* I tried to find some used bedding that would work but I couldn't find what I wanted! So I caved and bought this set for the master bedroom. I promise, I'm getting back on my mantra-wagon now. ;)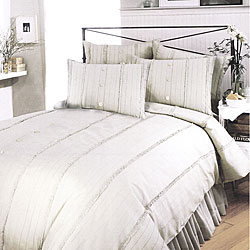 Woo! I can't wait for it to get here and according to UPS, I should have it in my hot little hands on Friday. Squeeeee!! I love getting new sets and switching them out all the time. I want to get a new (to me) sheet set in a light blue color to coordinate with my room. :D
I went to Joann's today with my 40% off coupon in my hands, looking for fabric for my wicker chair and some bedroom toss pillows that don't go with anything anymore. Instead of throwing them out, I just made cases for them so I can use them with my new set.
I think everyone has some random pillows that don't go with anything anymore, dig 'em out and put them to work! It isn't hard to change their look and start enjoying them again.
Check out my before shots:
These are the toss pillows from another bedroom set. Fuggle, right? Never mind my hot pink desk chair. Isn't that fun? I think it was something like $5 at IKEA. I love IKEA.
Here's the cushion from the wicker chair, not too offensive, just not my style.
And after:
I got this stripey fabric for $2 a yard! I plan on spray painting the chair a cream color but I don't have any spray paint right now. Thank you everyone who gave their $.02 on this wicker chair. I'm feeling 100% comfortable with the make over on this piece and your opinions really helped. This wicker chair will fit in my master bedroom, which I'll post more pictures of on Friday. I've been doing quite a bit of sprucing things up in there and I'm excited to show it off.
You can't tell, but I totally cheated on this pillow. I sewed the sides like a good girl but then I couldn't fit the pillow/seam under my sewing machine to complete the pillow. So I put on my thinking cap. It wasn't working, and then I got the genius idea to staple the fabric!! Well, it was the best I could get from my cap at the time. I tore the whole house up looking for my staple and some staples. But while I was looking, I remembered my good friend, Betsy, the hot glue gun. Betsy totally rocked this little project and took care of that seam like a dream!
I had some terry cloth fabric on hand here that I made a pillow case out of and I picked up a vanilla colored fabric to make a ruffle pillow from. I followed the instructions that I found on the
Ducks in a Row
blog, Laurel has a nice step by step instructional blog posted.
Here are all 3 pillows I made today. :)
So, the little blue pillow, I made, tied the bottom with ribbon, and sewed a shell button to the center. The ruffle pillow was a bit trickier. Making the ruffles even and look right was the hardest part but if you fiddle with it for a few minutes, it'll get sorted out. I can't decide if mine turned out wonky or not. I've been looking at it too long and I'm overly critical of things I sew. If they aren't 5000% perfect, I dwell on the flaws.
I have 4 more pillows to redefine so I'll work on those for my big bedroom reveal on Friday.
*
Random.org has decided that the winner of my oriental blossom bath set is poster #1! Congratulations Nicole at Bugaboos!! Please contact me through my profile. :)


*